Pandia is a mobile video system for monitoring and troubleshooting industrial processes and machinery. Analysis can be performed on-site or by remote support.
Pandia Set
The Panida Set consists of:
Four Pandia cameras, with customized magnetic mounts
A laptop with Pandia app for recording, livestream, and video analysis
The Pandia case for practical and safe transport, with accessories (WLAN hotspot, chargers, batteries)
Setup and use of Pandia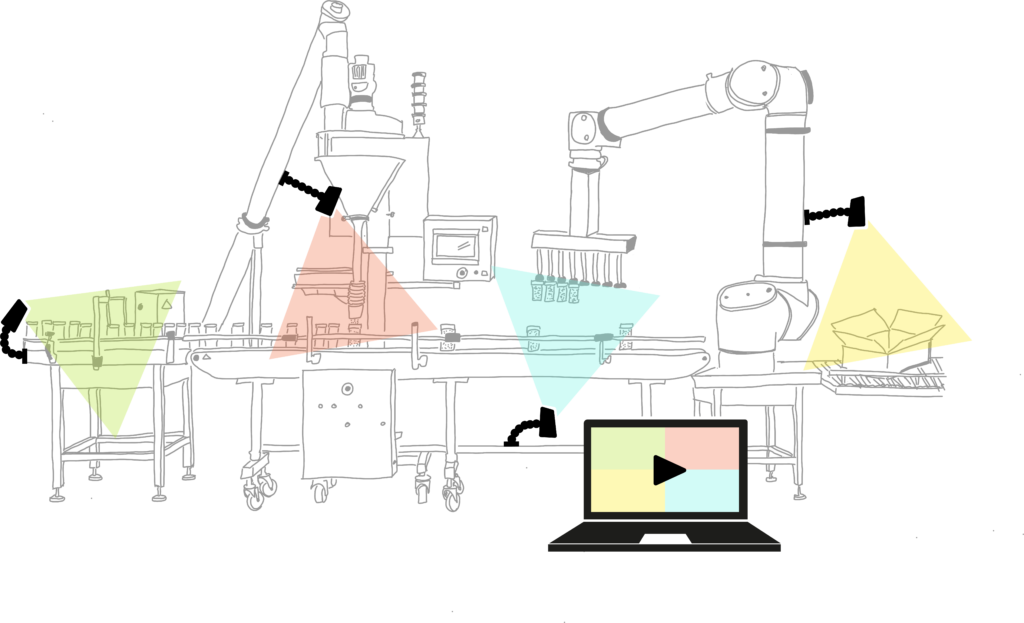 Four Pandia cameras are securely placed with magnetic holders, for observing and recording the spots where you suspect sources of error. If a malfunction occurs, the last minutes before the incident are automatically saved.
You can then analyze the four synchronized views with zoom, slow motion and frame-by-frame analysis find the cause of the malfunction.
With Pandia Remote, all settings and functions of the Pandia equipment on-site can be controlled remotely, such that a remote troubleshooter can analyze and solve problems without having to travel on-site.
Simple Setup in 5 Minutes
The Pandia key functions
High Quality Video Recording & Analysis
Four easily mounted cameras, synchronized recording
Full HD resolution (1920 x 1080), slow motion up to 240 fps.
Video analysis with zoom, slow motion, frame by frame.
Video editing & export for sending and documenting
Automatic Event Recording
Monitoring mode with AI-supported event detection, for analysis of sporadic malfunctions
Remote Support
Pandia Remote Toolkit gives helpdesk/troubleshooter full access to Pandia on site. The videos can be uploaded directly from the Pandia App to an Expert Forum (screencast: how to use). Details and added value (slides).
Example: Pandia setup and troubleshooting on a bottling line
Example: Using the Pandia analysis functions
Pandia Benefits
Faster troubleshooting, shorter machine downtimes.
Better troubleshooting for sporadically occurring malfunctions.
Efficient remote support with full insight into the situation on site.
Improved communication – internally and externally.
Reduced personnel and travel costs. Reduced CO2 emissions. Remote Support as alternative during travel restrictions due to Covid-19
In which industries and plants is Pandia used?
Pandia is particularly suitable for:
Large and complex machines and systems
Complex and fast mechanical processes
Systems with relatively frequent malfunctions (due to frequent retooling, prototypes and custom designed equipment, after commissioning)
example industries are: packaging, printing, food, metalworking, …